IN THE HEART OF DOWNTOWN HACKENSACK

MANHATTAN-INSPIRED LUXURY APARTMENTS IN HACKENSACK, NJ
Live in the lap of luxury at The Brick of Hackensack Apartments and indulge in stunning skyline views and high-class amenities. Inspired by Manhattan's vibrant scene, these Hackensack apartments impress through contemporary features, sleek finishes, and a unique selection of studio, one, and two-bedroom layouts. The significance of our building's name and façade originates in the last decade of the 19th century when ten brickyards operated along the Hackensack River. Much of the clay used in manufacturing was harvested here in Hackensack. The excellent location gives you exclusive access to Downtown Hackensack, New York, and Newark.
...
Read more
"Oasis" Courtyard Terrace
Featuring a 48-foot lap pool surrounded by The Brick's expansive courtyard nestled nicely within the building center. Dive in for a swim or join fellow residents for events on the lawn.
Fitness Center
Whether you're a morning runner or evening weightlifter, the state-of-the-art Fitness Center features the best equipment, views, and space to feel your best. With something for everyone, the exclusive Yoga Room has everything you could need.
Sky Lounge
Immerse yourself in floor to ceiling views of the New York City skyline while enjoying a cocktail at the bar. The Sky Lounge offers the perfect space to gather and relax, with expansive comfortable seating areas, fireplace, pool table and foosball table.
Gallery
An inside look at life at The Brick of Hackensack...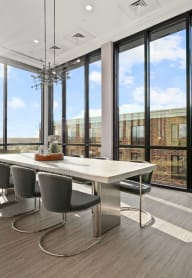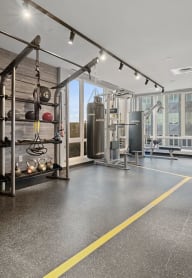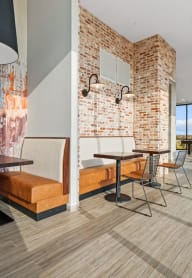 Hackensack is a unique and diverse city on the verge of a Renaissance